Bruins David Pastrnak sinks Islanders in Game 1 with hat-trick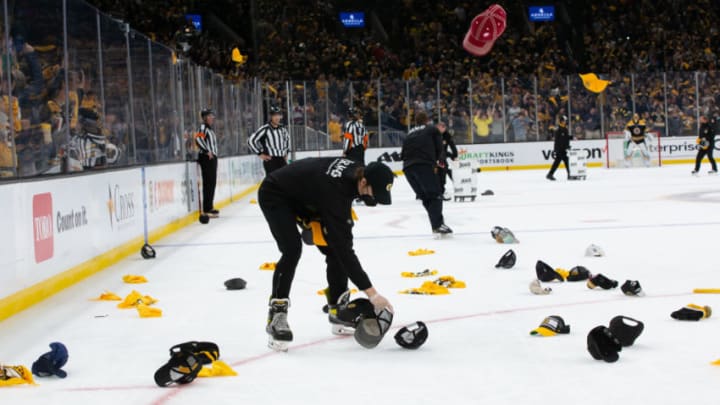 BOSTON, MA MAY 29: Hats rain down after David Pastrnak #88 of the Boston Bruins (not pictured) scores his third goal of the game during the third period against the New York Islanders in Game One of the Second Round of the 2021 Stanley Cup Playoffs at the TD Garden on May 29, 2021 in Boston, Massachusetts. (Photo by Rich Gagnon/Getty Images) /
Going into Game 1 the New York Islanders needed to do a few things to get a win against the Boston Bruins. Shut down the "perfection line" and don't take stupid penalties. The Isles did neither of those in Game 1.
Pastrnak picked up a hat trick, Marchand picked up a point, and Patrice Bergeron had two assists and eight shots on goal. That's…well that not what you would call quiet, right? Say what you will about how David Pastrnak scored some of his goals, but as a collective, the Islanders did not do well to keep the Bruins top-line quiet.
New York Islanders lose Game 1 by a score of 5-2 to Boston Bruins
And then there are the dumb penalties. The Islanders only took two penalties but both were dumb.
First, Andy Greene gets his stick up in Charlie Coyle's face as the Isles held a 1-0 lead and only 33 seconds left on the clock in the first. It was accidental, but for a veteran like Greene to lose control of his stick like that at that point of the game was frustrating.
Making matters worse was Pastrnak tieing it nine seconds into the power play.
The Isles second penalty was on Mathew Barzal. With the score 4-2 for Boston late in the third, Trotz pulled Sorokin to try and tie it up. And then Barzal gets stick on Connor Clifton to negate that advantage.
Yeah, Barzal barely gets a stick on him and yes Clifton seems to dive on the play, but the refs saw enough there to call it. There's no reason to do that with the game on the line.
Making matters worse (in this case) is that this was essentially Barzal's only contribution to the game. His anonymous performance in the postseason continues with a stat line that shows 1SOG, 2 hits, 1 block, 2 giveaways, 1 takeaway, and a 17% FOW efficiency. Not good.
The B's Best Showed Up
That last point about Barzal is important. The Bruins best players showed up tonight while the Islanders best didn't.
With only one game decided, this isn't over. There is still a ton of hockey left to play. And a ton of hockey left for Mathew Barzal to have a positive impact on this series.