Islanders somehow only eighth best odds to win 2022 Stanley Cup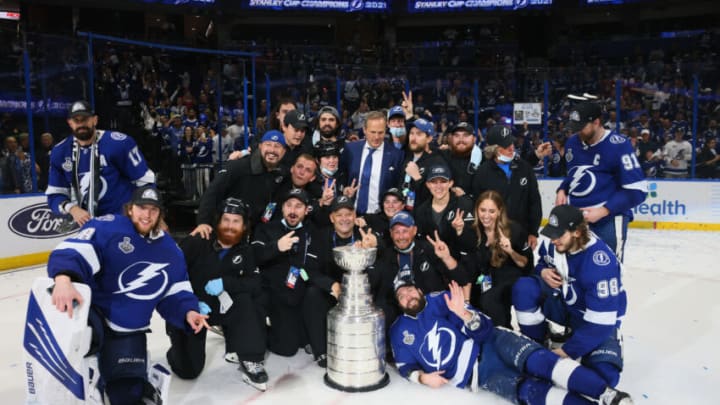 TAMPA, FLORIDA - JULY 07: The Tampa Bay Lightning celebrate after defeating the Montreal Canadiens 1-0 in Game Five to win the 2021 NHL Stanley Cup Final at Amalie Arena on July 07, 2021 in Tampa, Florida. (Photo by Bruce Bennett/Getty Images) /
Going into the 2021-22 NHL season, the New York Islanders have their eyes firmly set on the Stanley Cup. Of course, just about every team is hoping to compete for a Cup, but few, like the Islanders are true contenders.
That's what happens when a team goes to back-to-back conference finals, takes the two-time Cup champions to the brink each year, and stays virtually intact this year.
But according to WynnBet, there are seven teams that, as of today, are more likely to win the 2022 Stanley Cup.
New York Islanders eighth-best Cup odds, really?
WynnBet, list the Islanders at +2000 to win the Stanley Cup in 2022, which are the eighth-best odds for the NHL's Championship. The teams in front of the Isles (with their odds) are:
Colorado Avalanche: +600
Tampa Bay Lightning: +725
Vegas Golden Knights: +850
Florida Panthers: +1500
Carolina Hurricanes: +1500
Boston Bruins: +1500
Toronto Maple Leafs: +1500
I get how a number of these teams made it in front of the Islanders. The Avalanche are without question a powerhouse. As are the two-time Cup Champs in Tampa. Vegas, Florida, and Boston are excellent teams that deserve to be in the top ten as well.
But still, the Islanders being eighth and 500 points back of the Panthers, Hurricanes, Bruins, and Leafs is wild.
The Isles are still basically the same team that is second in playoff wins since 2018-19 and 10th in regular-season wins over the same stretch. They hold one of – if not the best – goalie duo in the NHL and are getting Anders Lee back. Remember, during the 2020-21 playoff run, Leo Komarov was keeping his spot warm and the Isles still took the Lightning to seven games in the conference finals.
To be 500 points back of Florida, Carolina, and Toronto who, combined, have the same number of playoff wins as the Isles (28) since 2018-19 is, as I said, wild. I bet that line changes to be on par with the teams ranked 4th through 8th when the Palmieri, Cizikas, Parise, Beauvillier, and Zajac signings are made official.