Islanders get huge expose boost with major artists wearing jersey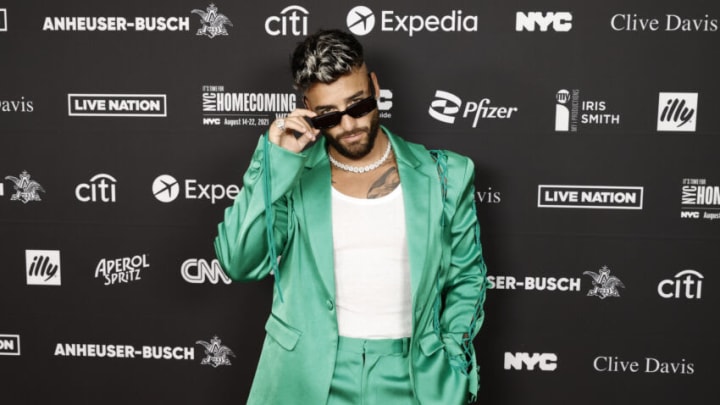 NEW YORK, NEW YORK - AUGUST 21: Maluma attends We Love NYC: The Homecoming Concert Produced by NYC, Clive Davis, and Live Nation on August 21, 2021 in New York City. (Photo by Jamie McCarthy/Getty Images for Live Nation) /
I know we don't like to hear it, but the New York Islanders aren't one of the big markets in the NHL. The Long Island club doesn't have the same number of supporters as other clubs have.
We're a loud and vocal supporter group that easily punched above our weight. It is a growing fanbase that is on its way up in terms of numbers. Helping that effort is seeing two major recording artists wear Islanders jerseys at recent concerts.
New York Islanders gets exposure boost
Over the last week, two big artists donned Islanders jerseys at recent concerts. First was RMR (that's supposed to read as "rumor" by the way"). The Georgia-born singer didn't just wear a regular Islanders sweater but wore won with Barzal's 13 and name on the back while performing at Citi Field on September 24.
On Instagram, RMR has 126,000 followers and all of them got to see the artists wearing the blue and orange. Maybe a good portion of his fanbase already knew who the Islanders were, but the other portion may not have known and now they do.
That's a good set of eyes on the Isles that may not have been before.
But the big boost came a few days later when Maluma went to the Webster Bank Arena in Bridgeport. Now. I've never heard of Maluma, and apparently, I'm in the minority here. The Columbian singer has 59.3 million followers on Instagram.
Millions of followers from around the world were exposed to the blue and orange with Maluma simply putting on the jersey got a show. That's the type of free advertising any business is desperate to receive.
Does either of these acts bump the Isles into one of the bigger supporter groups in the league? Certainly not. But even if one person becomes an Islander fan it's a big win for the fan base and the franchise. We'll gladly take and welcome any new fan to this growing group.