Report: Jeff Marek indicates the NY Islanders are among teams interested in Finnish defenseman Valtteri Pulli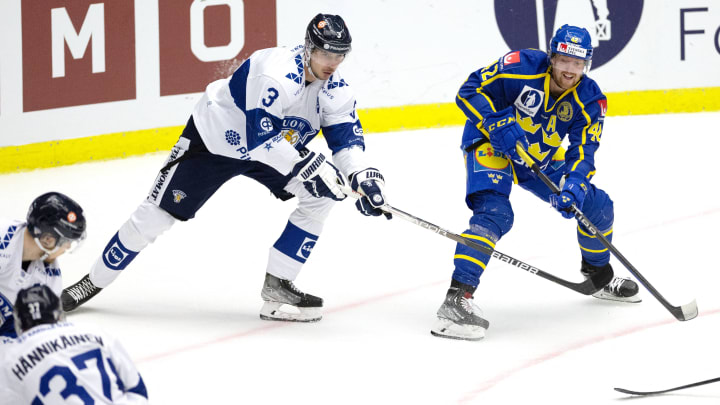 ICE HOCKEY-BEIJER-SWE-FIN / ANDREAS HILLERGREN/GettyImages
The NY Islanders prospect pool is even thinner now that they've traded their No.1 prospect in the system, Aatu Räty, to the Vancouver Canucks in a package in exchange for Bo Horvat. That package also included a top-12 protected first-round pick which means the Islanders won't be selecting in the first round in the upcoming draft or the following, and already haven't drafted in the first round since 2019. So, Islanders general manager Lou Lamoriello is exploring all avenues to bring youth to Long Island and according to Jeff Marek via Sportsnets 32 Thoughts the Podcast, Lamoriello is looking to Finland at undrafted defenseman Valtteri Pulli who plays for TPS in Liiga.
"There's a name I want to get on everyone's radar right now," Marek explains to Friedman. "He's a late bloomer, he's 21 years old. He's a Finnish defenseman, he's 6'6", and never drafted. His name is Valtteri Pulli. Kind of been turning heads all season long. He's playing this weekend at the BHG tournament, formerly the Swedish games. He plays for TPS. Now a number of teams that have shown interest but at varying degrees. I've heard of a c couple of different teams that have been really hot on him and others just kicking tires. I'm trying to figure out who is really aggressive and [who is just curious]. But it sounds like the teams that have interest, and again to varying degrees are, the San Jose Sharks, Winnipeg Jets, Boston Bruins, Vancouver Canucks, Nashville Predators, Pittsburgh Penguins, and NY Islanders."
Pulli is turning heads this season as scouts believe he's shown NHL potential. As Marek stated, he's an undrafted late bloomer, but this season in particular he's shown strides toward an NHL future. The 6'6" defenseman has scored three goals and 14 points in 47 games. They're not eye-popping statistics, but it's his size and skating, defensive zone play, and his ability to use the body that has been said to be most impressive.
It's likely he's not going to cross the pond and head right to the NHL if he's signed, rather he'll find his way in the AHL first and make his way up through the ranks. According to Marek, Pulli cannot sign until his season overseas ends.
"The one thing about Pulli is he can't sign an NHL deal until his season is done in Finland," Marek states. "I believe that regular season ends in the middle of March and then whatever playoffs bring along with it."
It's a developing story so we'll see where this goes, but the Islanders could certainly use the addition of some young talent in their prospect pool and if history shows us anything, the Islanders are very good at drafting defensemen. With Jim Paliafito in the organization now, too, the Islanders do have an overseas expert to help possibly lure Pulli to Long Island. We'll update you as this story develops.