New York Islanders: Expansion Draft Outlook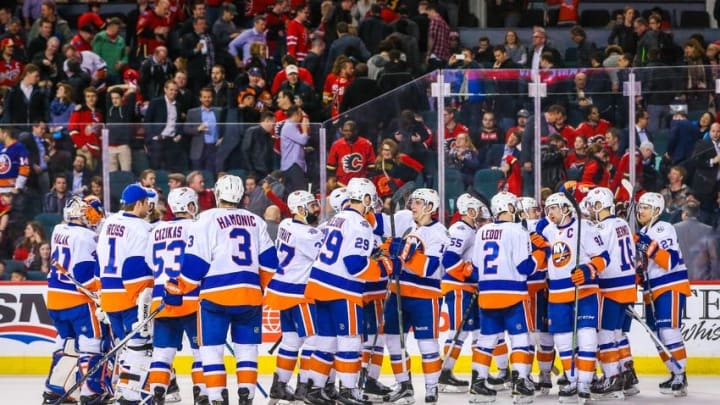 Feb 25, 2016; Calgary, Alberta, CAN; New York Islanders players celebrate win over Calgary Flames during the overtime period at Scotiabank Saddledome. New York Islanders won 2-1. Mandatory Credit: Sergei Belski-USA TODAY Sports /
The New York Islanders face some tough decisions as the NHL prepares for a potential expansion draft.
The NHL has announced the proposed rules that teams are going to have to follow with any upcoming expansion draft. We aren't sure exactly how many teams are going to be added to the league or exactly when expansion is going to happen. But the NHL wanted to give teams the chance to plan accordingly.
The proposed rules released by the NHL state exactly how many players can be protected from being selected by expansion franchises or what players are exempt from selection. The theme the NHL was going for was: competitive. The NHL doesn't want any expansion team to suffer the fate of previous expansion franchises that were only able to select the bottom of the barrel regarding NHL talent. They want any new franchise to be competitive right out of the gate.
Here are the proposed rules as per Pierre Lebrun of ESPN:
Teams can either protect: one goalie, three defensemen and seven forwards. Or, one goalie and eight skaters of any makeup.
First and second-year pros at any level will be exempt from selection. Third-year pros will be included in the selection process. So they can be picked-up if not protected
Any unsigned drafted players will be exempt from selection for the first two years after their draft year. If unsigned after three years from their draft year players are free for selection.
All exposed players must have a salary worth equal or greater to 25% of the previous seasons payroll for the team.
A team can only be selected from once, per expansion team. You can only lose one unprotected player per team.
Again, we aren't sure if expansion is going to happen or even when. The NHL has been understandably koi about whether Las Vegas or Québec City will be awarded a new franchise. With the low Canadian dollar, a lot of cold water has been poured over another Canadian team, but the sense remains that Las Vegas is all but guaranteed a new franchise at this point. Any new franchise would start no earlier then the 2017-18 season, as has been repeated a number of times by the NHL.
More from Editorials
So what does an expansion draft potentially mean for the New York Islanders? Who should be protected and who should be left available for any potential new franchise?
What Get's Protected?
Protected forwards: John Tavares, Frans Nielsen, Anders Lee, Josh Bailey, Brock Nelson, Ryan Strome, Mathew Barzal
Most of these names shouldn't come as a shock. Most of the names here are the driving force of the Islanders attacking talents. Two names that might draw a few questions are Frans Nielsen and Mathew Barzal.
Nielsen might draw some questions because he is a pending UFA at the end of this season. I expect GM Garth Snow to re-up Nielsen before he hits the open waters of free agency. Nielsen is a consistent producer in both 5v5 and powerplay situations. At 32 by seasons end, Snow could retain his second-line center on a cap friendly deal.
Barzal is the big name in the Islanders system. Playing for the WHL's Seattle Thunderbirds, Barzal has 86 points in 57 games. He is the future of the Islanders franchise. The young center will be in the third and final year of his ELC by the time the expansion draft would occur in 2017. That means he would not be exempt from selection and would merit being protected.
Protected Defensemen: Johnny Boychuk, Nick Leddy, Calvin de Haan
The three defensemen I protect are the three best defensemen on the team (I'll talk about Hamonic later). Both Boychuk and Leddy have been great pillars on the backend for the Isles. You just can't leave these two exposed and risk breaking it up. Calvin de Haan gets the last spot. Hamonic is on the way out. Garth Snow will respect Hamonic's trade request and likely deal him by this year's entry draft. That means de Haan moves up the defensive depth chart to no.3 in the Islander's system.
As a franchise, you want to protect your best assets. With only three spots you also want to protect your future, de Haan is both. It's not just a default upgrade. de Haan has proven himself and is perfectly adept as a no.3-4 defenseman alongside Hamonic. At 24, de Haan's best years are just around the corner.
Protected goalie: Jaroslav Halak
This was the toughest position to protect. Halak is clearly the number one, but by the time the expansion draft happens he'll be 33 and will be on the decline. He'll also be at the end of his $4.5m contract. Greiss and Berube have been great backups so far. But they're just backups.
The future of the Islanders crease might just rest in Russia with the young Ilya Sorokin, a 3rd round draft pick by the Islanders in 2014. He finished the year playing for KHL outfit CSKA Moscow and posted a 1.45 GAA with a 0.934 SV% over 28 games. The Islanders can sign Sorokin to an entry-level deal and not have to protect him.
That leaves the Halak-Greiss-Berube trio to figure out. Greiss is having a great season with Halak out injured. But he's only a year younger than Halak, so why protect a guy who's on the decline with marginal NHL experience as a starter? Berube is still unknown at this point. He's played well as Greiss' backup, but it's not enough to merit being protected. Halak is the best goaltender on the books. Again, protect your best assets.
What's Left to Be Plundered?
There's a lot left for any expansion team to get their hands on. Most of the farm is left unprotected, including the often beleaguered Joshua Ho-Sang. Both Mikhail Grabovski and Nikolay Kulemin are left unprotected, as well as their combined $9,187,500 cap hit. A figure that guarantees the Islanders can meet the threshold of 25% of the previous season's payroll amount in unprotected assets, as required by the NHL. Both Griess and Berube remain unprotected, but neither is worth protection. Maybe expansion franchises will agree and just go elsewhere for a goaltender.