New York Islanders: 1-Way Contracts Galore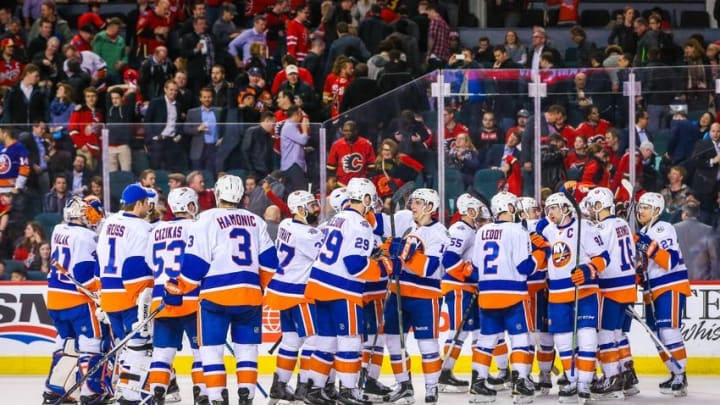 Feb 25, 2016; Calgary, Alberta, CAN; New York Islanders players celebrate win over Calgary Flames during the overtime period at Scotiabank Saddledome. New York Islanders won 2-1. Mandatory Credit: Sergei Belski-USA TODAY Sports /
New York Islanders currently have twenty two players under 1-way contracts, in addition to still unsigned RFA's Ryan Strome and Christopher Gibson.
After signing Shane Prince to a new deal two weeks ago, and the recent signings of Scott Mayfield and Alan Quine, the New York Islanders currently have 22 players signed to 1-way deals for the 2016-17 season.
Ryan Strome is all but guaranteed a 1-way deal, and fellow remaining restricted free agent, goaltender Christopher Gibson will likely be given a one way deal even though he'll play every night in Bridgeport.
That will put the New York Islanders with a current group of 24 players on 1-way deals. The CBA allows for up to 50 players on the roster, but only 23 on the active roster.
That gives a team 20 dressed players per game, and three scratches. On the current active roster, defensemen Ryan Pulock and Adam Pelech are both on two way contracts.
So how does Garth Snow create his active roster with these 26 players?
First we'll look at the forwards.
Tavares, Ladd, Grabovski, Kulemin, Cizikas, Lee, Bailey, Clutterbuck, Nelson, Chimera, Parenteau, Prince, and Quine. As well as the likely re-signing of Strome.
This group will all be on one-way contracts, and leaves little chance of youngsters Matthew Barzal and Michael Dal Colle making the team.
With twelve forwards dressed each night, and a forward scratched, the Islanders will have to get creative on who makes the active roster.
I'm not an NHL general manager, and probably for good reason, but if I were, my first thought is to trade Mikhail Grabovski, who does play a great possession game, but has missed 55 games due to injury since joining the New York Islanders.
Trading Grabovski will free up $5,000,000 in cap space, if the Islanders are able to trade him without retaining any of that salary. If salary retention is avoided, the return will be obviously lower, but a team looking to reach the salary floor may take a chance in exchange for a mid to late round draft pick.
But if you want to give a chance to Matthew Barzal or Michael Dal Colle, Garth Snow will also have to make room with another trade so he's not paying an NHL salary counting against his cap to play in the minors.
If you're looking to move a less important forward as another salary dump, recently unproductive players Josh Bailey and Nikolay Kulemin come to mind. If you're looking for value in return, Snow could dangle young, but established forwards Brock Nelson, Ryan Strome or Anders Lee.
The case for moving two salaries becomes stronger, when you remember Matthew Barzal can not play at the AHL level next year, and a fourth year in juniors is a stalemate for his development.
If Barzal makes a case for himself to be on the opening night roster, expect one or even two forwards to be moved before the season begins.
If the New York Islanders are able to move two forwards, and if I were the general manager, I would do my best to move Grabovski and Kulemin.
Together they clear just over nine million dollars in cap space.
John Tavares is likely to receive an extension in that range, but that also gives the Islanders even more room to bring in another star to play alongside Tavares and Ladd.
With those moves made, I would pencil in the forward group mentioned below with Josh Bailey as my healthy scratch.
Ladd-Tavares-Parenteau
Prince-Nelson-Strome
Lee-Barzal-Quine
Chimera-Cizikas-Clutterbuck
I know its expected that Ryan Strome will be the third line center, and that 11-29-18 may seem too young to be a second line, but they had great chemistry in the playoffs, and could all use the right group to find their untapped potential.
Regardless of what moves happen, the forward group is packed and Garth Snow could very well create a little bit of room.
More from Editorials
The Defensemen
The New York Islanders defense corp is not as crowded, but some decisions on the active roster will need to be made. The Islanders currently have six defensemen on 1-way contracts, and two on a two way contract.
Nick Leddy, Travis Hamonic, Johnny Boychuk, Calvin de Haan, Thomas Hickey and Scott Mayfield are all signed 1-way. Ryan Pulock and Adam Pelech are the two way defensemen.
It's Ryan Pulock's time. He will most definitely be in an Islanders sweater full time. Unless Mayfield or Pelech can propel themselves ahead of Pulock on the depth chart, Pulock slots in on the third pair with Thomas Hickey, and will see power play time on either the first or second unit.
Scott Mayfield is likely the Islanders seventh defensemen being on a 1-way deal. He will stay with the big club and fill in on a short term basis when one of the top 6 needs a rehab day, or is going to be out of action for a few games. He replaces the role of departed Brian Strait, but a lot better, and a lot more liked by Islanders fans.
I think the Islanders are very high on Adam Pelech, so he will likely be used in top pair minutes every night in the AHL, and will be called up in the event that an Islanders defensemen goes down for an extended period of time due to injury.
After missing a lot of time last season due to thoracic outlet syndrome, Pelech held his own defensively in his nine games with the Islanders, contributing two assists.
He had 11 points in 65 games during his first pro season with the Sound Tigers in 2014-15. He was also a -2, which was the second lowest rating among Bridgeport defensemen who played more than 20 games that season.
I'd start the three pairs listed below with Mayfield in the press box with Bailey.
Leddy-Hamonic
de Haan-Boychuk
Hickey-Pulock
When you have two mobile defensemen capable of playing upwards of 25 minutes a night, you've got to pair them together. There is no concern of one player having to bail out the other with Nick Leddy and Travis Hamonic.
Both 25 years old, and signed through 2020 (Hamonic) and 2022 (Leddy), these two will be leaned on heavily over the next few years. Combined they bring 812 games of NHL experience, and 302 combined points. The New York Islanders will be calling on this pair in even strength, powerplay, and penalty kill situations.
I've made my case pairing Johnny Boychuk with the blossoming Calvin de Haan to a create a shutdown pair to put out against the top lines of the Islanders opponents. These two will see their special teams time being called on during the penalty kill.
To me, it's an obvious move to pair Thomas Hickey and Ryan Pulock. After being shown the ropes by Lubomir Visnovsky, and shouldering the load for Marek Zidlicky and Brian Strait, Hickey will be given a very capable partner in 21 year old Ryan Pulock.
He sat out five games due to injury in the playoffs, but Pulock played his postseason at a half point per game pace, and will be a welcomed addition to the third pair with his 105 mile per hour slap shot.
The Goaltenders
It's not ideal, but I think the New York Islanders will have three goalies on their active roster when the season opens.
After missing the playoffs and a good amount of the regular season due to injury, Jaroslav Halak is only a year removed from an All Star season where he broke franchise records in wins (38) and consecutive wins (11).
Halak has got to be motivated by not only missing the playoffs, but having to watch Thomas Greiss play the best hockey of his career, backstopping the team to its first playoff series win in 23 years.
JF Berube is subject to waivers and is not a player the Islanders are willing to lose, after picking him up off of waivers themselves. He led the Manchester Monarchs to the AHL's Calder Cup and played seven games for the Islanders last season.
If one of three is moved, I believe it will be either Halak or Greiss. Which one of the two may have a lot to do with their performance in the World Cup of Hockey. Halak and Greiss are both members of Team Europe's roster.
Christoper Gibson who could be signed to a 1-way contract, will be the starter for Bridgeport, and looks to build off of his AHL rookie season where he had a record of 19-11-6. Gibson had his first NHL start result in a 4-3 overtime win against the Capitals, which clinched the Islanders spot in the 2015-16 Stanley Cup Playoffs.
Next: Islanders Roster Turnover
What Garth Snow and Jack Capuano put together as their active roster is a mystery with one of the most solid group of players the team has had in some time. Some interesting decisions are going to be made, but I believe the Islanders will produce a much better product in 2016-17.