Team Europe vs. Team North America: Highlights and Game Review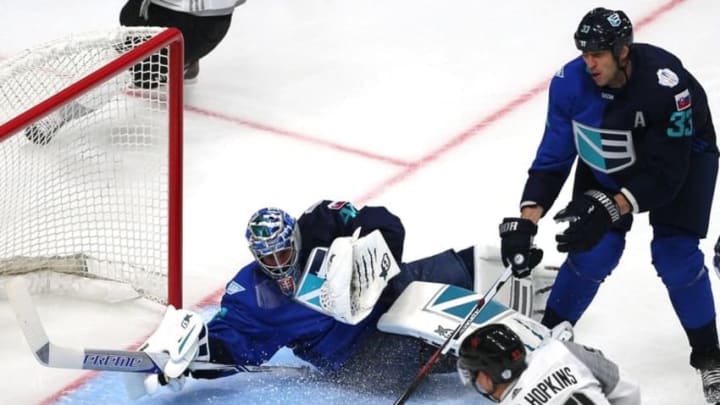 Sep 8, 2016; Quebec City, Quebec, Canada; Team North America forward Ryan Nugent-Hopkins (93) shoots and scores a goal against Team Europe goalie Jaroslav Halak (41) and defenseman Zdeno Chara (33) during the second period of the World Cup of Hockey pre-tournament game at Videotron Centre. Mandatory Credit: Jean-Yves Ahern-USA TODAY Sports /
Team Europe got the first taste of what Team North America was as an entity at the World Cup of Hockey. Boy-oh-Boy did Conor McDavid  and his boys put on a show against New York Islanders goalie Jaroslav Halak's team.
New York Islanders fans can feel consolation from the fact that Halak played a full 60 minutes in net for Team Europe. He got pumped for four goals against, but he still looked good between the pipes.
The one big factor against Team Europe was cohesion. Can this hodgepodge group of misfits from random European nations gel as a homogenous unit and get results. If tonight's pre-tournament game was any indicator the answer is; hell no.
Team Europe was incapable of pressing the game offensively outside of the opening five minutes of the game. They lumbered around for most of the game, and just couldn't get anything to work.
Team North America showed us exactly what we thought they would be. Fast, exciting, and full of talent. New captain Conor McDavid didn't get on the score sheet, but my God did his boys skate around Team Europe.
Other teams in the tournament beware. Team North America is all that and a bag of potato chips.
MacKinnon Brace
Recent Colorado Avalanche quitter Patrick Roy dropped the puck to open proceedings in Québec City. Just about the only city in the world that will never hate on Roy.
Colorado Avalanche star and 21-year old Nathan MacKinnon took the opportunity to show his former coach just what he's made of. Scoring two. One on a penalty shot after some terrible defending from Mark Streit.
If anyone thought that these games would be meaningless without any sort of competition, think again. Team North America is out to prove they aren't just a bunch of kids.
Halak Looks Ready
There was one positive out of this game for New York Islanders fans. And that was Halak playing a full game and looking good doing it.
Signs of the injury from earlier this calendar year seem rectified. It didn't stop me from wincing every time he went in the butterfly or pushed from post-to-post.
Oh and that point in the first period where a Team Europe defender crashed into a sprawling Halak. I nearly had a panic attack. I might be in the minority but I'm just not convinced that Thomas Greiss will be able to replicate his form from the end of last season.
Next: Strome Still Hasn't Signed. What Gives?
Greiss will likely start the Team Europe's next game against the same opposition on Sunday. So maybe I'll be proven wrong. Maybe Greiss will stand on his head and maybe deserve the crease. Either way, God Team North America looks good. I said that already right?