Islanders Blow Two Goal Lead, Lose In OT (Highlights)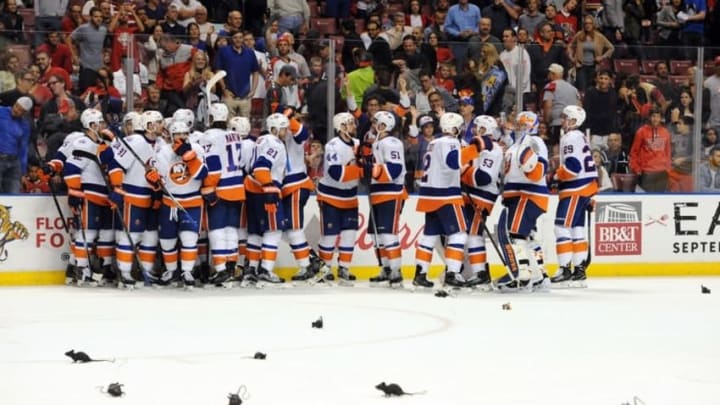 Apr 22, 2016; Sunrise, FL, USA; The New York Islanders celebrate their double overtime goal in game five of the first round of the 2016 Stanley Cup Playoffs against the Florida Panthers at BB&T Center. Mandatory Credit: Robert Duyos-USA TODAY Sports /
After playing a strong 59 minutes Jaroslav Halak let in a soft goal to tie it with under a minute to go. The Islanders proceeded to lose in overtime.
The sky is falling folks. That's about as bad a loss as you can have. At least the other night in Tampa they didn't tease you. It seemed like through the first 59 minutes of the game the Islanders would win the contest.
Brock Nelson scored 19:38  into the first period to give the Islanders an early lead. The first period was rather quiet besides that one goal. Jaroslav Halak looked very good early on in this one.
Want your voice heard? Join the Eyes On Isles team!
The second period was an extremely wild period. First off the Islanders would get a power play goal by Nick Leddy. Yep, not a drill the Isles scored on the power play.
Although the Panthers would review it and it took the referees forever to determine if Brock Nelson was interfering with the play. The refs stayed with the call on the ice after a lengthy review.
Shortly after the Panthers looked to have scored on an Aaron Ekblad blast. Although it was initially ruled no goal on the ice. Then the refs would talk it over for a few minutes and decide to change the call to a goal.
Jack Capuano then decides he would like them to take another look at it and he challenges. After looking it over on the replays the refs then decide to go back to the original call of no goal. It was an interesting series of events to say the least.
More from NY Islanders News
The Isles took a two goal lead into the third.
Kyle Rau would score 8:56 into the period to bring the Panthers within one. That score would hold until just 13 seconds remaining in the game. Jaroslav Halak let in an unbelievably soft goal to Jonathan Marchessault and that once unbelievable performance was washed away.
The Isles blew another late lead in the third period.
Naturally in overtime John Tavares took which felt like his 100th hooking call of this young season and the Islanders were on the PK. The struggling PK ended up killing of the Panthers power play but shortly after Denis Malgin beat Halak and that was that.
A truly disgusting loss in  a game the Islanders should have absolutely won. This is what bad teams do, even when they show glimpses of playing a good hockey game it falls apart in the final minute. Unreal.
Next: Halak Earns Single Point
Capuano can't blame puck luck tonight. The bounces were going their way they were just unable to finish.