New York Islanders Travis Hamonic to Play Injured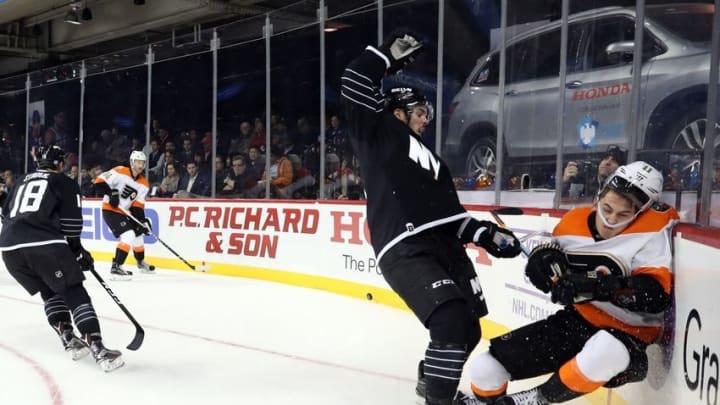 Nov 3, 2016; Brooklyn, NY, USA; New York Islanders defenseman Travis Hamonic (3) checks Philadelphia Flyers center Travis Konecny (11) during the third period at Barclays Center. Philadelphia Flyers won 3-2 in shootout. Mandatory Credit: Anthony Gruppuso-USA TODAY Sports /
On Monday the New York Islanders found out that their World Cup finalist defenseman would be out indefinitely with a broken jaw. So Hamonic decided to suit up just a week into his recovery.
With Dennis Seidenberg injured with a broken jaw the New York Islanders defensive corps was further widdled down. The likes of Travis Hamonic, Ryan Pulock and now Seidenberg would be out for extended period of time.
Now that Seidenberg is out the Isles called up Scott Mayfield from their AHL affiliate in Bridgeport. But then the news came out that Travis Hamonic would be returning to the lineup.
Want your voice heard? Join the Eyes On Isles team!
Wait, wasn't he injured? Yup. Hamonic went down with a broken right thumb on November 6th. That's just eight days ago for those keeping score. I know modern medicine has made leaps in the recovery process for certain injuries. But a broken thumb? Please.
OK, well maybe he's just trying to put on a strong face for the team. The Isles won't actually dress him? Cue President-Elect Donald Trump: "Wrong."
The New York Islanders are going to dress seven defenseman and eleven forwards.
Hamonic is saying that he's healthy. And darn-it I want to believe him. I'm generally all-in on camp Hamonic. But on this, my allegiance is shaking a bit.
More from Editorials
The Risk Isn't Worth the Reward
Winning matters. And that's the only reason Hamonic is back. He, like most of us, deep-down, believe this team is better than what their record shows. But playing injured isn't the answer. Not yet. Not now.
The risk of making that injury worse just isn't worth it. The Isles lose this game and he aggravates the injury, then what? Even if the Isles do win. Is it worth the risk? Is it worth having Hamonic out of the lineup longer?
The Islanders need to get back to winning ways and soon. But this by-no-means necessitates that the team's leadership needs to take risks with their health. Injuries happen, that's why the Islanders have a farm system.
This is a chance to take stock of what the organization has. Scott Mayfield wasn't enough to fill the gap. How about that Devon Toews kid? By my recollection, he's doing pretty well down on the farm with six points in 12 games.
Next: Time for Change in Brooklyn - GM and Coach Got to Go
It's not like Hamonic is the answer for the Isles. They lost all three games he played before breaking his thumb. Taking a risk on his health isn't the answer. The Isles need to try something to get those wins, but a less than 100% Hamonic isn't the answer.