New York Islanders Call-Up Dream Just a Dream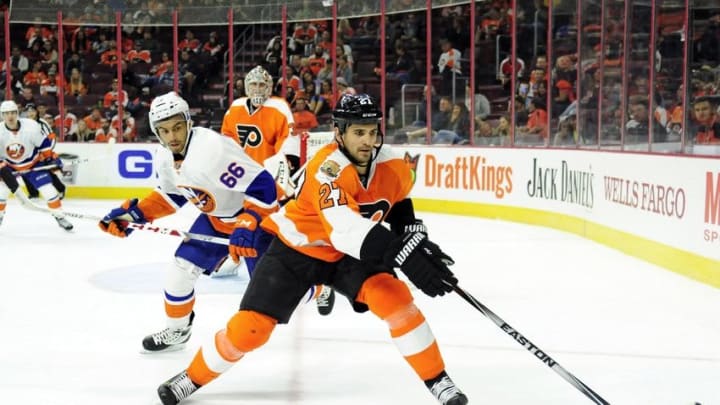 Sep 27, 2016; Philadelphia, PA, USA; Philadelphia Flyers center Boyd Gordon (27) and New York Islanders right wing Josh Ho-Sang (66) battles for the puck during the second period during a preseason hockey game at Wells Fargo Center. Mandatory Credit: Eric Hartline-USA TODAY Sports /
The New York Islanders are looking to get anything going. Unless that anything is calling up players from Bridgeport. The Isles just can't do that without losing out.
The New York Islanders are stuck. They just can't seem to win. Sitting just above the bottom of the league looking way up to where they thought they would be. The Isles just can't seem to do anything about it. And it's their own fault.
Eyes on Isles staff writer Chris Lizza recently wrote about the wealth of talent the Islanders have down on the farm in Bridgeport, and elsewhere in the Islanders system.
Must Read: Isles Have Strength in the System
So why not just bring up one of the kids. Just get Ho-Sang or Dal Colle, or both even. And let's see what these kids can do. It certainly can't hurt right?
More from Editorials
But to bring someone up the Isles have to send someone down. As it stands their active roster, like most NHL teams, is sitting at the max number of 23.
Making room sounds easy. Just send another body down. But who exactly? There are all but two players on the Isles active roster that are on two-way deals. Deals that enable them to float from the NHL and AHL lineups without having to pass through waivers.
According to Cap Friendly, the two players on two-way deals are Anthony Beauvillier and Adam Pelech.
Yes, Ryan Pulock is also on a two-way deal, but he's on the IR list and isn't actually on the team's active roster. Or he doesn't count at least.
Anthony Beauvillier can go down, but after playing his full ten game slate the Islanders are going to have to pay him his full NHL salary anyways. Why pay him an NHL wage to play in the AHL? Add his highlight reel goal from the other night and there's no reason to send him down.
Which leaves Pelech. The 22 year-old defenseman was brought in as injury cover after Travis Hamonic went down with a broken thumb just over a week ago. And now that Hamonic is back, after only sitting out 8 days, Pelech seems like the first choice to go.
But then you have to remember that Scott Mayfield is on an emergency loan. So really, he'd be the first to go. But if a single defender goes down and a single forward comes up a few moves still need to happen to get that player on the ice.
Remember how we talked about not sending down Anthony Beauvillier? How do you feel about scratching him in order to give Ho-Sang or Dal Colle some ice time? Yeah, me neither.
Active to Dressed
So who? The active roster has to come down from 23 to 20 dressed players.
We already know the JF Berube isn't getting anywhere near the ice. So that's one. Alan Quine isn't going to make the cut either simply because he hasn't done so with any consistency yet. So that leave one more spot in the press box.
With Hamonic back, prematurely in my eyes, Mayfield has been up in the box. But now that he's been sent down in this hypothetical there it's down to what forward you dislike the most.
For me it's Anders Lee. I'm just not feeling the Lee vibe right about now. His get in front of the net and pick up the trash style of goalscoring just isn't working. His two points in 17 games should be evidence enough.
Next: Sorokin Continues to Dominate the KHL
After all that it comes down to taking a player who's collected 77 points over the last two seasons for a player that has ten in the AHL. It's a gamble, a big gamble. But that's just where the Islanders are at this point of the season.
It's got a lot of moving pieces with a tiny margin of success. But like you, I'll take any sliver of success at the moment.