New York Islanders Refresher on Expansion Draft Rules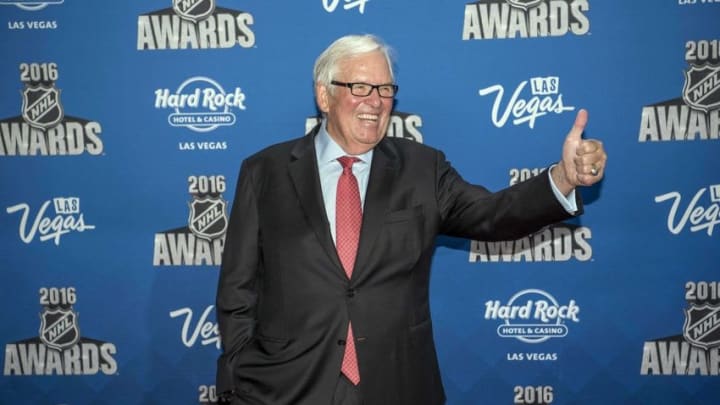 Jun 22, 2016; Las Vegas, NV, USA; Bill Foley walks the red carpet during the 2016 NHL Awards at Hard Rock Hotel and Casino. Mandatory Credit: Joshua Dahl-USA TODAY Sports /
It's about this time of year where teams, like the New York Islanders, start to decide if they're buyers or sellers at the trade deadline. This year there's an extra wrinkle to any decision. The Vegas Golden Knights expansion draft.
Every roster decision the New York Islanders make will have a direct impact on their position going into the Vegas expansion draft later this year. So, to get everyone primed and ready here are some important dates to remember and the rules all 30 team will have to abide by, and what that means for the New York Islanders.
Unlike expansions before it, the NHL wants Vegas to be competitive right out of the gate. So they set up the rules of the expansion in such a way that teams will be forced to say good-bye to a fairly valuable piece.
Key Dates
All 30 NHL teams must have their protected lists submitted to the NHL by 5 PM (New York time) Saturday June 17th, 2017. The Golden Knights will then have 72 hours to make their selections from the pool of unprotected players. The announcement of the selections will occur on June 21st.
More from Eyes On Isles
Protection Rules
Here's where the fun starts to happen. The Vegas Golden Knights will take one unprotected (or exposed) player from all 30 NHL teams. How each team decides who gets protected and who doesn't is going to be an interesting story for the remainder of the year.
The NHL has stated that teams have two options when it comes to protecting players. They can choose (1) seven forwards, three defencemen, and one goaltender, or (2) eight skaters (either forwards or defencemen) and one goaltender.
Sounds easy enough right? Pick 7-3-1 or 8-1. Done. Except there are a number of little exceptions that play with how a team decides who makes the cut, or who has to make the cut.
Exceptions to the Rule
The first, and the one with the biggest impact is no-movement clauses. Players that have them must be protected. So that means John Tavares, Andrew Ladd, and Johnny Boychuk ain't going to Vegas.
Players that have "career ending/threatening injuries", defined as players who have missed more than the previous 60 consecutive games, can't be added to the exposed list of players, and may even be exempt from the expansion draft altogether by the NHL. So, assuming there's no improvement with Mikhail Grabovski, he's staying here too.
All first and second-year professionals are exempt from selection in the draft this June. If we go with the understanding that a professional year is a year spent playing in either the NHL or AHL then the likes of Alan Quine, Ryan Pulock, and Adam Pelech, all with three years of AHL experience, become poachable by Vegas. Anthony Beauvillier though, as a first-year pro is exempt.
Teams must have one defenceman and two forwards on their unprotected lists that are all under contract in 2017-18 and have 40 games of NHL experience in the prior season, or 70 games of experience in the last two seasons.
That means one of Nick Leddy, Travis Hamonic, or Thomas Hickey have to be exposed to fill the defenceman quota. For the forwards, that could be anyone not named Tavares, Ladd, Grabovski, or Gionta. All have either a no-move clause, are crippled with injury, or don't have a contract in 2017-18.
For goaltenders, the rule is that teams need to expose one goaltender that is under contract in 2017-18 or will be an RFA immediately prior to the 2017-18 season. The only goaltender the Isles have under contract in 2017-18 is Halak. Berube is scheduled to become an RFA after this season, but unless he plays a ton of games between now and July 1st he might actually become a UFA.
Based on current performance, even if Greiss is resigned past the 2017-18 season and therefore eligible to be exposed I'd expect Halak to be the one who gets exposed to meet that goaltender quota.
Must Read: Jaro Halak Placed on Waivers
So, using the Isles current roster and contract situation here's a list of players that need to be protected, are ineligible, and who can be exposed.
Must Be Protected: Tavares, Ladd, Boychuk
Ineligible for Selection: Grabovski, Beauvillier, Berube*
*depends if Berube will remain an RFA and if the Isles tender a qualifying offer
Next: Matt Duchene is Still on the Trade Market
Who makes the list of protected players outside of the aforementioned three is an interesting debate. The likes of Leddy and Hamonic would certainly make the cut. Leaving names like Hickey, de Haan, Pelech and Pulock unprotected. Add just one of them to the protected list and the Isles are down to being able to protect just two forwards outside of Tavares and Ladd.
That leaves two spots for the following forwards: Lee, Cizikas, Clutterbuck, Nelson, Bailey, Strome, Prince, and Chimera. A lot of talk has centered around Vegas taking a defenceman from the Isles , but seeing a forward head down south is a real possibility.