New York Islanders Welcome Youth To Mini Camp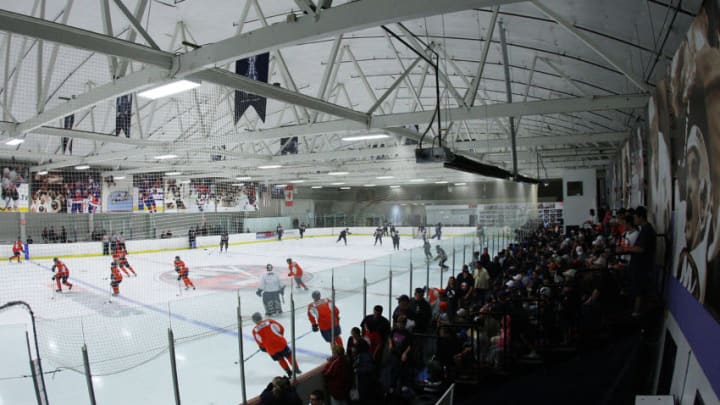 SYOSSET, NY - JULY 12: A general view of the prospect mini-camp open practise scrimmage on July 12, 2009 at Iceworks in Syosset, New York. (Photo by Mike Stobe/Getty Images) /
The 2016-17 NHL season just came to an end, but here we are looking forward to 2017-18 as the New York Islanders open their yearly mini-camp with a number of familiar names participating.
The New York Islanders kick off their 2017-18 season preparations with their annual week-long minicamp. This year's edition features a number of players we're hoping can make the jump to the regular roster.
The 2017 minicamp will feature 29 forwards, 16 defensemen, and five goaltenders from the Islanders system and a few other players they want to get a look at.
The most notable names on the roster up top are the trio of Anthony Beauvillier, Mathew Barzal, and Josh Ho-Sang. The latter of the three sporting that new hairstyle he advertised on social media.
They represent the big three that should make the Isles active roster on day one of the 2017-18 season. Beauvillier already played a full season with the club in 2016-17 but complacency will certainly see him sit in the AHL for a while.
After an incredibly promising 21 game try-out at the end of last season, Josh Ho-Sang will hope to build on it and secure himself a spot with the team come opening night.
The purpose of the camp is to get an early look at the future of this franchise. Like Mathew Barzal. There's so much promise in his game but after a two-game stint last season the Islanders need to make sure he learned the lessons he needed to learn.
More from Eyes On Isles
Defense and Goaltending
The blueline won't feature either Ryan Pulock or Adam Pelech. Which should give an indication as to how the Islanders feel about the two D they protected in the expansion draft.
But notable names like Parker Wotherspoon, Mitchell Vande Sompel and Devon Toews will be in attendance. Both Wotherspoon and Vande Sompel put up nice junior campaigns, but Toews seems like the jewel in the bunch.
Winning fastest skater at the AHL all-star game and notching 45 points in his first crack at the AHL, there's a lot to like about former fourth-round pick Toews.
In the crease, newly signed Linus Soderstrom will make his second appearance at Isles minicamp. after winning the SHL's Le Mat Trophy with HV71 and posting fantastic numbers during the regular season, Soderstrom is the future in the blue paint for the Isles.
Next: Top 5 Garth Snow Trades, Ever
Hopefully, the Islanders can get a good sense of what these kids got. I for one am interested in this Ben Meyers kid. he scored 99 points in 25 High School games this season. It might just be High School, but that's still worth something.
If you want to read the full 50-man roster, you can do so at the following link.