New York Islanders Are Not Moving To Quebec City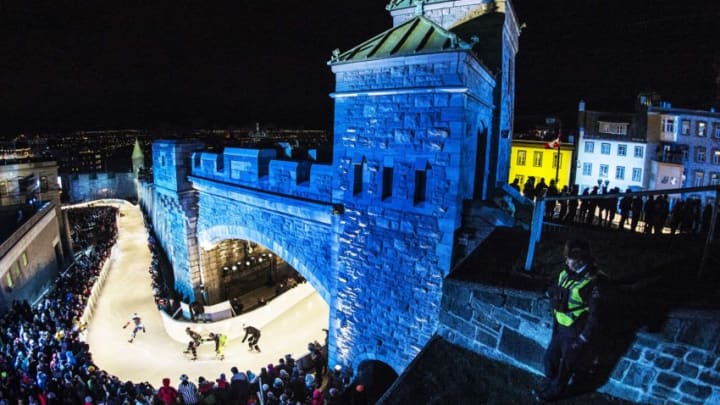 QUEBEC CITY - NOVEMBER 28: In this Red Bull handout, Pacome Schmitt of France, Coleton Haywood of Canada, Paavo Klintrup of Finland and Michael Urban of Czech Republic compete during the first stage of the Ice Cross Downhill World Championship at the Red Bull Crashed Ice in Quebec City, Canada on November 28, 2015. (Photo by Joerg Mitter/ Red Bull via Getty Images) /
I thought my Monday was going to be nice and relaxed before I get to watch the impossibly red hot Vegas Golden Knights come to Brooklyn to faceoff against the New York Islanders. And then ESPN happens.
We all know that New York Islanders captain John Tavares is without a deal. And so does the rest of the hockey-watching public. Which means that hot take after hot take is going to be published until such a time as Tavares signs a new deal with the team.
The longer it drags on the longer people tend to believe it isn't going to happen. I'm still sure that Tavares stays on Islander for years to come. I'll stop believing it the second he hits free agency or the second he signs with another team.
Ask anyone in Tampa how they felt a few years back when it was Steven Stamkos who made all of the rumor headlines? I'm sure they did the same. Until he signs somewhere else I assume he's staying here.
But I get it. Tavares' pending free agency is a hot-button issue and one that everyone in every market wants to talk about. Naturally, national sports broadcasters like TSN and ESPN are going to get on the "Where Will Tavares Land" click-based gravy train. That's fair.
But to then toss out a half-thought conspiracy is insanely ludicrous. Ludicrously insane.
Economics Don't Make Sense
What I'm referring to is a post that went up on ESPN.com asking a few ESPN writers where John Tavares would be playing next season. That's where former Puck Daddy blogger Greg Wyshynski intimates that the New York Islanders might just be Québec City bound.
I understand that the New York Islanders are on shaky grounds relative to where they'll be playing hockey next season. And yes, the Belmont bid is a huge factor for Tavares determining if he'll stay with the Islanders long-term.
But to tease that the franchise is relocation bound is ridiculous. Absolutely ridiculous. Simply based on the economics of the situation. And Wyshynski knows it.
More from Eyes On Isles
First off, the Canadian dollar, arguably the largest factor in deciding to not give Québec City an expansion franchise hasn't improved much since the decision to not award Québec a franchise was made back in the summer of 2016.
Since the announcement was made to award Bill Foley an NHL franchise, the Canadian Dollar has actually gotten worse. On June of 2016, the day before the official announcement of the Vegas franchise, the loonie (yes, that actually its name) was worth $0.78096 dollars American.
The loonie is now worth $0.778948 American.
The NHL isn't suddenly going to make a double turn on the importance of the worth of the Canadian dollar just to place the Islanders, a team in the New York City market an arena.
Wyshynski knows there's no way the NHL will move a team from the largest North American market for one smaller than Albuquerque, New Mexico. But it didn't stop him from putting in that one-liner for nothing more than "lolz".
Next: The Good and Bad of Garth Snow In 1 Week
The New York Islanders aren't going to leave the New York market. They're here to stay. Talk about Tavares wanting to leave all you want. But don't create rumors or crazy ideas for no reason.