New York Islanders One Year After Firing Jack Capuano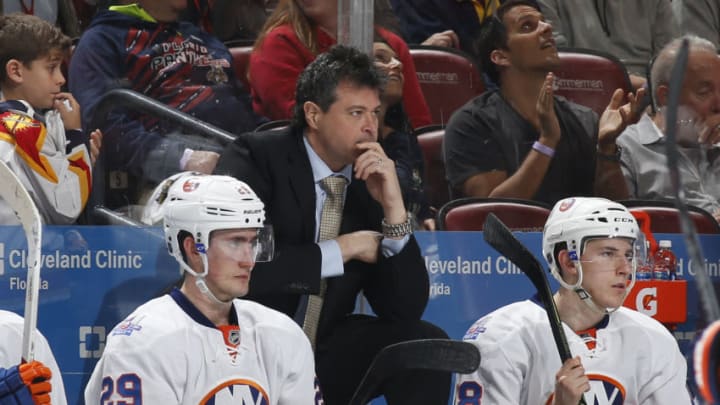 SUNRISE, FL - APRIL 15: Head coach Jack Capuano of the New York Islanders looks on as the officials hand out penalties after a fight against the Florida Panthers in Game Two of the Eastern Conference Quarterfinals during the NHL 2016 Stanley Cup Playoffs at the BB /
On January 17, 2017, the New York Islanders relieved head coach Jack Capuano of his duties and Doug Weight was named interim head coach. After barely missing the playoffs last year and currently sitting on the fringe of the playoff picture, are the Islanders in a better position than they were a year ago?
Jack Capuano had his fair share of highs and lows in six-plus seasons as the head coach of the New York Islanders. Three playoff appearances, including one series win in 2015-16, were most certainly the high water mark of his tenure. Obviously, losing the locker room and, eventually, the confidence of the front office, were the valleys to his coaching peaks.
By the time Capuano was shown the door, it was painfully clear that he had taken this team as far as he could. It seemed that, over time, his voice was tuned out by his players.  It's totally possible that he was let go because his skill-set as a coach simply wasn't a fit, considering the extremely high number of talented young players that needed to be developed over the coming years. It was time to hit the road, Jack.
The New York Islanders had a 17-17-8 record at the time of Capuano's firing. Doug Weight was tabbed as the interim head coach and the Isles finished out the season on fire. The Islanders went 24-12-4 over the team's last forty games and barely missed out on making the playoffs.
The Doug Weight Era
There's no question the New York Islanders were rejuvenated when Doug Weight took over as head coach for the fired Jack Capuano. Their sheer exuberance, not to mention their improved quality of play, once Weight took over left little doubt that Capuano's time had indeed run its course. The Islanders future was looking very bright even though they missed that final playoff spot by mere points.
More from Editorials
The Islanders players, front office, and especially fans, headed into the offseason with a very optimistic outlook for the 2017-18 season. With a new head coach whom the Isles highly-talented players liked and respected, as well as an influx of young talent coming through the pipeline, how could they not be excited?
When this season began, things seemed to be progressing faster than anyone expected. Despite losing an expected front-line winger in Nikolai Kulemin early on, and then a top-four defenseman in Calvin de Haan, the New York Islanders were not only keeping pace in the Metro Divison, they were leading it at times.
Then the calendar turned to December, additional injuries began to mount, and it turned into a sloppy holiday season for the New York Islanders. After a month they'd like to forget and improved play over the first two weeks of 2018, the New York Islanders once again find themselves only a win out of a playoff spot.
So are the New York Islanders in a better position one year later?
It would be unfair to compare Jack Capuano's entire time as head coach of the New York Islanders, which was more than six full seasons, to Doug Weight's much shorter tenure based on wins and losses alone. We'll need to see a much larger sample size from Doug Weight before we can make an educated opinion as to how they compare to each other as coaches.
The Islanders unquestionably played much better with Weight leading the team last year. But after Islanders team brass made the call to replace the monotone-voiced and at times emotionlessness Capuano with the proven leadership qualities (and easy excitability) of Doug Weight, did we really expect anything less from such an obviously talented group of players?
This season has been an inaccurate gauge of Weight's proficiency as a head coach, as the team has been marred by a rash of injuries, as well as poor goaltending. In the absence of some of their key cogs, the New York Islanders young call-ups have played just well enough to keep this team afloat.
Next: Shane Prince Suffers Upper Body Injury In Loss To NJD
Unfortunately, if a move is not made to remedy some of this team's ailments quickly, this fairy-tale idea of rookies effectively stepping in for injured veterans will not have a happy ending. Once the New York Islanders have a full, healthy, roster again, only then will we be able to determine if the Isles are truly better off with Doug Weight at the helm instead of Jack Capuano.
In this writer's opinion, the basic fact the New York Islanders haven't fallen off of the proverbial cliff after losing all the players they have to injury is all the proof we need to declare the Islanders much better off than they were one year ago.