New York Islanders Have Better Chance At First Overall Pick Than Playoffs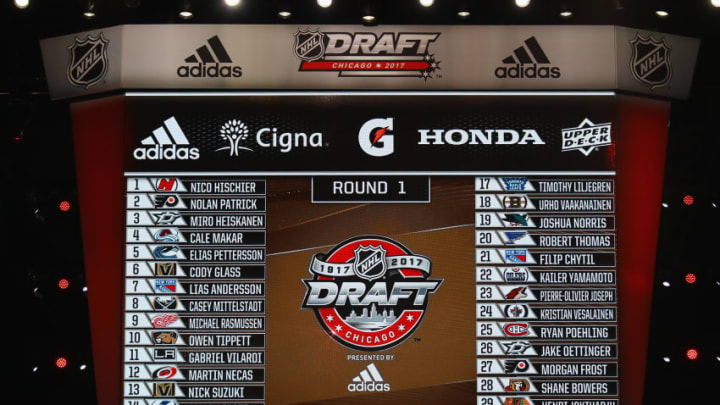 CHICAGO, IL - JUNE 24: A general view of the first round draft picks board during the 2017 NHL Draft at the United Center on June 24, 2017 in Chicago, Illinois. (Photo by Bruce Bennett/Getty Images) /
After last night's loss, the New York Islanders have a better chance at the number one overall pick than a shot at the playoffs.
So this is what it has come to. The New York Islanders, in John Tavares' walk year and a year in which they have a historic offense, have a better shot at the first overall pick than a chance at the playoffs.
What a disgrace this year has turned out to be. Through the first two months of the year, the Islanders were playing exciting hockey. At one point they even had a 87.20 percent chance of making the playoffs. Now, it's come crashing down to just five percent.
In their last ten games, the Isles are 2-6-2 and have dropped down to last place in the Metropolitan Division. The Rangers, who told their fans just a few short weeks ago that they would start a rebuild, are now ahead of the Islanders.
More from Editorials
This is absolutely unacceptable. The Islanders allow shots on goal, and goals too for that matter, like nobodies business. They've allowed 237 goals this year. 237! The next closest is Ottawa who has given up 225. That's still a 12 goal difference.
In 82 games last year the Isles allowed 242 goals, which was still the ninth most in the league. The Isles will likely pass that mark before they even reach 70 games played. They're on pace to allow 294 goals this year.
The last time a team has given up more than 294 goals in a season was the 2006-2007 Philadelphia Flyers who game up 303 and had a -89 goal differential. Oh yeah, they also finished with just 56 points and finished last in the league by 11 points.
That really puts in perspective how bad they've been when it comes to keeping pucks out of their net.
As for the first overall pick they have a 7.6 percent chance of landing that in the draft lottery at the moment. Having a small chance for the top pick and a small chance to make the playoffs is exactly where you don't want to be.
Next: Isles Could Miss Playoffs Despite Historic Offense
Garth Snow has put this team in an awful position. After 12 years of building, this is where we've bottomed out to. Something has to change, this year is the season that gets people fired and front offices overturned. Pray Tavares resigns for some reason and get a new, competent, General Manager and Coach in here, that's our only hope.