New York Islanders: Too Late To Tank For A Pick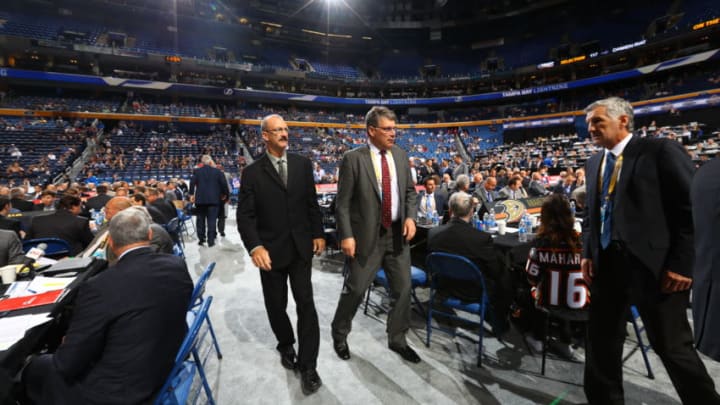 BUFFALO, NY - JUNE 25: (l-r) Former New York Islander players Ken Morrow and Mats Hallin attend the 2016 NHL Draft on June 25, 2016 in Buffalo, New York. (Photo by Bruce Bennett/Getty Images) /
The New York Islanders have the ninth fewest amount of points in the entire league. Despite their slide since December, it's too late to tank for a pick.
The New York Islanders are actually in the worst spot imaginable. They have no shot at making the playoffs and they have a very slim chance at getting the first overall pick in the draft. Due to that, a lot of fans want them to tank the rest of the way to get a better draft pick.
Unfortunately, it's far too late to tank with just 11 games left to go on the schedule. We're going to take a look at realistic predictions today for the remainder of the season.
Predicting The Islanders Finish
As we speak right now, the Islanders are ninth to last in the league in points with 70. They have 11 games to go including tonight against Carolina. If the Islanders go 3-6-2 the rest of the way, which based off how they've been playing seems likely, they'll finish with 78 points.
More from Draft
Chicago and Edmonton, who are the two trailing teams behind the Islanders, are on pace to finish with 74 and 75 points on the season. Even if you're tanking, like the Isles would be going 3-6-2, you'd still end up with ninth to last in the league.
Being bad, but not bad enough is the perfect analogy for this Islanders team.
Draft Pick Likelihood
As things stand today, the Islanders have a 5.4 percent chance of the number one overall pick according to Tankathon. That isn't very good odds. The Isles are more likely to end up with the ninth pick (44.1 percent) or the 10th pick (33.0 percent).
Remember, the Islanders also hold the rights to Calgary's pick. Unfortunately for the Isles, there's a 76.2 percent chance the Flames pick is the 12th overall pick.
A ninth and 12th overall pick is nothing to write home about. I'm not saying that either of those players taken there would turn out to be bad NHL players by any means, as we know Mathew Barzal was taken 16th overall.
What we do know is that unless you're picking in the top-three there's almost a guarantee the prospect you take is at minimum two years away from being NHL ready.
If you combine the two picks the Islanders technically have an 8.1 percent chance at the number one pick which would be the sixth best odds.
Next: Islanders Prospects To Watch For In 2018-2019
It's going to take some kind of miracle for the Islanders to end up with a top-three pick. If we're being honest the 10th and 12th pick is probably what we're looking at here. Then we can look forward to 2021-2022 when these guys make their debut.