New York Islanders Real Fans Root For The Tank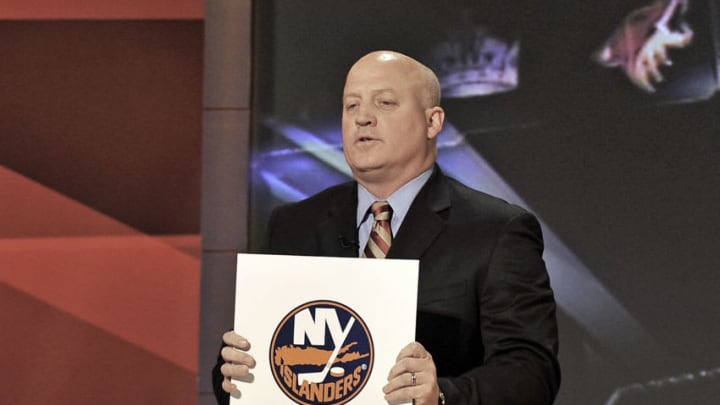 TORONTO - APRIL 7: NHL Deputy Commissioner Bill Daly holds up a NHL Draft lottery card April 7, 2008 at the TSN Studios in Toronto, Ontario, Canada. (Photo by Graig Abel/Getty Images for the NHL) /
It's all but official: The New York Islanders will be missing the 2018 NHL playoffs. After a spectacular start, the team hit a wall and is struggling to make it to the end of the season. Now fans are faced with the moral dilemma: to root for "the tank" or not.
After a promising beginning, fans of the New York Islanders are seeing their team at the bottom of the standings once again. With only a .03% mathematical chance of making the playoffs and no hope left, it seems like it's time to face the music of the tank.
Every year, there is an ethical debate around the idea of tanking. Can one really be a fan if they're rooting for their team to lose?
Embrace It
The answer is yes. It's safe to say that if you're having a conversation about the pros and cons of a team tanking, you are in it for the long haul.
No casual fan would ever get to the point where they're considering the importance of the future of a team as opposed to the now. In that debate, there is a clear winner.
More from Eyes On Isles
Sacrificing your enjoyment of the last few games of the season should be little price to pay for the security of the team's future. Of course, as fans, we can't control what the team itself does. No athlete will play to lose and no coach will purposely make choices to officially kill a team so the actual outcome of games is out of our hands.
What we can do is embrace the tank. Although the chance of winning the draft lottery is rather slim, the odds will only get better the lower the team falls in the standings. It wouldn't be rooting against your team; it would be rooting for your team's future.
To put this into perspective, consider the Calgary Flames. With the ownership of their first round pick in the upcoming draft under the condition of the Flames missing the playoffs, it only makes sense for the Islanders' future to root against them.
Apply this logic to the team itself. While it may seem too late to tank, a loss of two points down the stretch never hurts.
Next: 5 Prospect Options in the 2018 NHL Draft
Embrace the tank, Islander fans. Put the 2017-2018 to bed and invest your excitement in teams to come.