New York Islanders Get No Luck at the Lottery, Next Move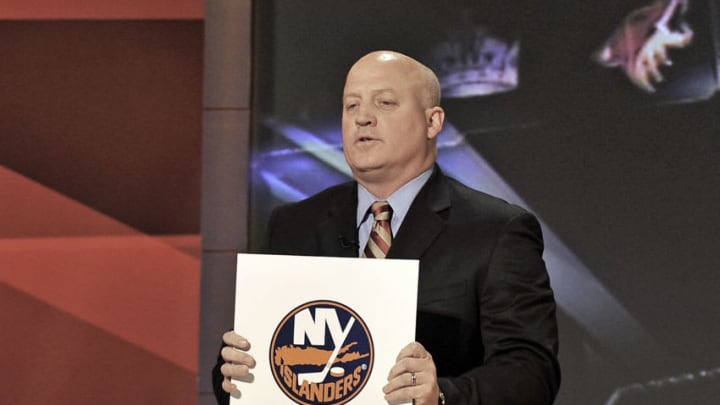 TORONTO - APRIL 7: NHL Deputy Commissioner Bill Daly holds up a NHL Draft lottery card April 7, 2008 at the TSN Studios in Toronto, Ontario, Canada. (Photo by Graig Abel/Getty Images for the NHL) /
The Hockey Gods did not smile on the New York Islanders this past Saturday night. Instead, the ping pong balls tantalized the blue and orange, when the 11th lottery ball (not the 12th – Isles) came up golden. What does this mean for the Isles?
When Bill Daly (NHL Deputy Commissioner) flipped over the New York Islanders lottery cards at the moment of truth, one could hear all of Long Island say "oy-vey". The NHL Lottery went the same way for the Islanders as the regular season, which was a big disappointment.
What does this mean for the Isles moving forward?
Next Move
Well, the Isles now know that they won't have a top-three pick in the 2018 NHL Draft. The odds were much more likely (roughly 80%) that the Isles would not get lucky at the lottery.
More from Editorials
Now it's a fact that the Isles don't have a top-three selection this year. Time for the organization to pull itself up by the boot-straps and ask themselves "what's next".
However, we do know the Isles have the 11th and 12th overall picks in this year's draft. While the Isles organization and their fans are disappointed about that, most teams in the league wish they had such bad luck.
Remember, both picks in the first-round for the Isles carry strong value on the NHL trade market.
Game Plan
Write it down, the Islanders are going to add two future core players to their organization with the eleventh and 12th overall picks in the 2018 Draft. Yes, the top talent in this draft of Rasmus Dahlin, Andrei Svechnikov, Filip Zadina, and Brady Tkachuk will not be heading to Nassau County. But make no mistake two talented kids are coming.
That's assuming, of course, the Islanders do not trade one of their first-round selections for a proven player. The Isles could package either the eleventh or 12th pick, along with a prospect, and one of their two, second-round picks and get a heck of a player back to help them now.
However, what the Isles do with these picks (keep them or trade them) could all depend on whether or not John Tavares signs a new contract or leaves via free agency come July 1st. The Isles could use one of these prized picks to swing a major trade to convince Tavares to stay.
But if Tavares wants to leave, the Isles would be wise to hold on to these picks and use them as part of the team's future building blocks. Once again things come back to whether or not Tavares wants to be part of the Isles moving forward.
Next: Isles Should Trade Both First-Round Picks
Chin up Islander fans these two upcoming picks are going to help out the Isles one way or another. Ironically what the Isles do with them is tied to Tavares.