Islanders draft lottery results: Tanking play-in round not an option
The New York Islanders should be focused on the Stanley Cup not on Alexis Lafreniere.
Placeholder Team E did the unthinkable at the 2020 NHL Draft Lottery, they won the first-overall pick at the 2020 Entry Draft. Thanks to Team E any team in the play-in round (like the New York Islanders) that loses their qualifying series will get a 12.5 chance to claim that first overall pick at a second draft lottery.
[If you want to know more about the second draft lottery see my FAQ on the draw.]
A pick that will likely be used to select elite level winger Alexis Lafreniere first overall.
The Isles, who are short on elite-level talent could certainly use Lafreniere to stay competitive for a number of years. We know Mathew Barzal could certainly use an elite level winger to pair up with. So should the Isles consider the unthinkable and tank for that number one pick?
Not only is tanking virtually impossible at this stage of the season, but it also goes against the entire point of having a Stanley Cup.
Competitive Nature
Let's just first get to what tanking is. It's a systematic reduction of talent to a point where winning is next to impossible. There isn't a player out there that wants to lose. But if you move the good players out it makes it a lot easier to lose.
Teams in the play-in round can't do that. There's no way to move out enough talent in order to tank for a chance to get that first overall pick in 2020. The only option is to go for it.
But let's just say, for argument's sake, that a team finds a way to keep all of their good players away for the play-in round. While that team has a 12.5 percent chance of winning the first-overall pick, they also have an 87.5 percent chance of not winning that pick.
Those odds aren't so great when you factor in the other side, right?
The Prize
The ultimate prize is still the Stanley Cup. The goal for every team is to win a Stanley Cup. Every move they make via trade, free agency, contract extensions, scouting, drawing, all of it is to eventually win the Stanley Cup.
Unlike the seven teams already eliminated from the upcoming post-season, the New York Islanders still have a chance at the Cup. And every chance is worth taking.
Just getting into the playoffs gives teams a chance to win the Cup. Unlike the NBA top teams aren't a guarantee to make the post-season.
Back in 2011-12, the Los Angeles Kings were the eighth seed in the West and ranked 13th of 30 teams. They still managed to win a Stanley Cup.
I'm sure if you talk to Lou Lamoriello about the Devils 1994-95 Stanley Cup or to Nick Leddy about the Chicago Blackhawks Stanley Cup win in 2012-13 both will tell you those Cups mean as much as any other Stanley Cup win.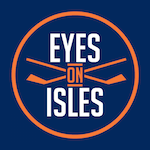 Want your voice heard? Join the Eyes On Isles team!
Write for us!
The prize is the Stanley Cup. Getting a chance to draft Alexis Lafreniere should only be seen as a consolation prize.