Islanders: Team Sweden positive COVID tests extends quarantine WJC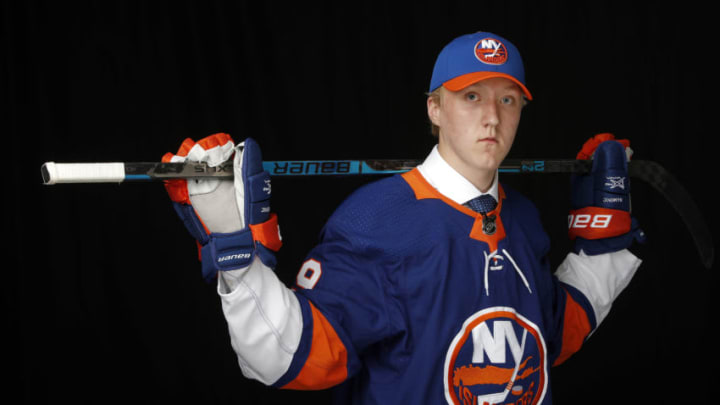 Simon Holmstrom poses for a portrait after being selected twenty-third overall by the New York Islanders during the first round of the 2019 NHL Draft at Rogers Arena on June 21, 2019 in Vancouver, Canada. (Photo by Kevin Light/Getty Images) /
New York Islanders prospect Simon Holmstrom will have to stay in quarantine right up until the start of the World Junior Championship.
On Friday, the IIHF confirmed they found ten cases of COVID-19 during testing at the World Junior Championship in Edmonton. Eight were from Team Germany while the other two came from staff (not players or coaches) from Team Sweden. That means that Team Germany and Team Sweden (including New York Islanders prospect Simon Holmstrom) must remain in quarantine until December 24 and December 21, respectively.
Holmstrom and Team Sweden are scheduled to begin pre-tournament play a day later against Team Canada and open their tournament on December 26 with their first preliminary game against the Czech Republic.
Will They Play?
The news is a massive blow for both teams who are already short-staffed. Team Germany lost Lukas Reichel (17th OVR pick in 2020 by Chicago Blackhawks), Nino Kinder, and Elias Lindner due to COVID before the tournament.
Team Sweden is also already shorthanded. They lost coach Tomas Monten and defenseman William Wallinder (32ns OVR pick in 2020 by Detroit Red Wings) before the tournament even started because of COVID.
Seven Swedish players were able to leave quarantine because they already possessed anti-bodies. Neither of them is Simon Holmstrom.
Holmstrom and Team Sweden will have little time to get valuable ice time before the start of the tournament. They can't hit the ice until the day before they start their pre-tournament. And that's assuming they're still in the tournament when it begins.
Chris Peters indicates that the tournament could continue with only eight teams rather than the ten that are currently there.
There's more to come on this over the next few days. There are many important decisions that the IIHF needs to make over the next few weeks. The NHL community will be watching keenly as the 20-21 season is set to start soon and how to deal with positive tests during play is still an uncertain territory.